NBA Title Contenders: Who Made the Cut?
Published on 24-Feb-2014 by Jared
With an average of 26 games remaining in the 2014 NBA season, true title contenders begin to emerge -- both favorites and dark horses.
Eastern Conference
Miami Heat (40-14, 2 seed)
Defending two-time NBA champions. Can't start this topic without mentioning that. The Heat will try to defend their throne and go for a three-peat, but will it happen? Most teams have acquired assets just to dethrone the Heat. Also, are the men down in South Beach still hungry for another ring? I think so, but only time will tell. Will Greg Oden save the Heat? Probably not. Dwyane Wade needs to stay healthy come play off time. LeBron can't do it all by himself again, especially now that there's a newfound rivalry between the Pacers and the Heat.
Indiana Pacers (42-13, 1 seed)
This Pacer team continues to get better and better with every year that passes. I applaud Larry Bird, because he turned Danny Granger into Evan Turner and LaVoy Allen. Not to mention they added more size in Bynum. Oh, and if you haven't noticed, Paul George is a legit MVP candidate now and also improves every year in the league.
Dark Horses
Toronto Raptors (31-25, 3 seed)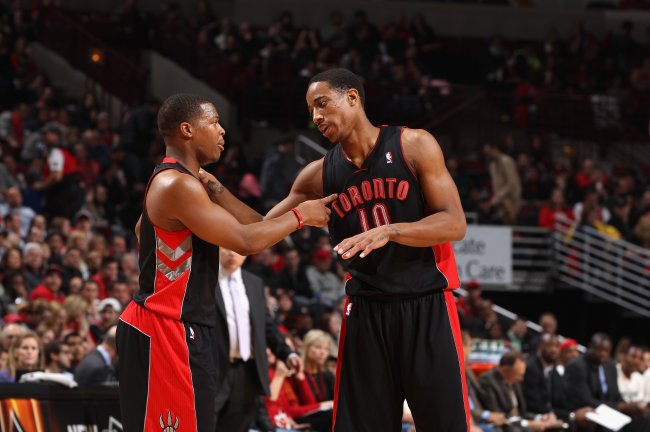 This team is just fun to watch. DeMar DeRozan is having an all-star year, Kyle Lowry is playing like an all-star as of right now, and the improved Terrence Ross is someone to keep an eye on over the years. Jonas Valanciunas could also have a great playoff season, especially in the Eastern Conference. I'm not saying that they're title contenders, but with the East lacking depth, they could make it to at least the second round, eventually meeting up with Miami or Indiana. Not a fun time.
Brooklyn Nets (26-28, 6 seed)
The Nets lost their all-star center, Brook Lopez, earlier in the season when they were struggling, trying to mesh all the talent together. Come January, it looks like everyone is on the same page, and rookie head coach Jason Kidd is finally getting his guys together. They also have veterans with championship pedigrees in Kevin Garnett and Paul Pierce. Shoot, even Kidd. They also added Marcus Thornton, a pure scorer and shooter who struggled with the Kings this season but could find his niche playing with the Nets. Brooklyn shouldn't have a problem scoring -- think Blatche, Anderson, Thornton and Joe Johnson -- but they need to work on their defense. Their championship hopes rely on Deron Williams' play.
Western Conference
Oklahoma City Thunder (43-14, 1 seed)
It's no secret that this squad is a title contender. They have challenged the Spurs, Grizzlies and the Mavericks, when they had championship potential. Making their first Finals appearance after knocking off the San Antonio Spurs in six games in the 2011-2012 season, the Thunder have become popular title favorites, second only to the Miami Heat. This could be their year; with the emergence of Reggie Jackson and solid play from Jeremy Lamb, they possibly could've gotten better. Their title aspirations heavily -- and obviously -- depend on the play of Durant and also the health of Russell Westbrook.
San Antonio Spurs (40-16, 2 seed)
A team with Tony Parker, Manu Ginobili, Tim Duncan, and Greg Popovich at the helm is a guaranteed title contender in my eyes. Spurs role players are doing a spectacular job, especially Patty Mills. Also, despite missing Kawhi Leonard, arguably their best defensive player, San Antonio stills hold the second seed in the tougher Western Conference (24-10 against West teams.) They also made it to the NBA Finals last season, as they let Game 6 slip away.
Los Angeles Clippers (38-20, 4 seed)
A Chris Paul-led team is always playoff bound. Complimented by Blake Griffin, who is evolving; DeAndré Jordan, an athletic freak of nature and shot blocker; and veteran Jamal Crawford off the bench, the Clippers could go places this season. And that's not to mention a championship coach (Doc Rivers) who has played a major part in Griffin's development.
Dark Horses
Golden State (34-22, 6 seed)
Maybe Stephen Curry's jumpshot can soothe the pain. This team is definitely a dark horse in the Western Conference. When you have someone like Curry who can single-handedly take over a game with his shooting alone, it's hard to stop. Surround him with David Lee and Bogut (when healthy) along with Klay Thompson and Harrison Barnes out in the perimeter, and it's hard to stop this offensive juggernaught. This is a team to watch come playoff time, though I don't think it'll reach the Finals.
Houston Rockets (38-18, 3 seed)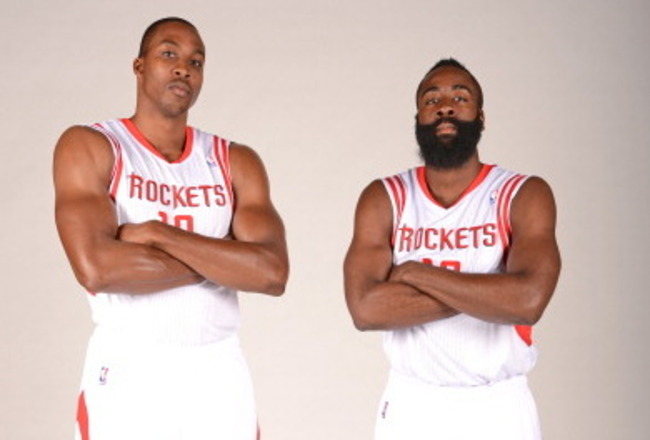 James Harden has ensconced himself as a star in this league. He can create his own shot and draw fouls. Dwight Howard is a great complimentary piece to this team, because Houston is definitely a jump shooting club, a mold worked out for Howard while he was with the Magic. He also has help from Terrence Jones, who can make name for himself in this league. The only downside is the lack of experience, so I don't consider them contenders.
Portland Trailblazers (38-18, 5 seed)
Damian Lillard is first-time all-star this year, and rightfully so. LaMarcus Aldridge deserves more credit, though. I'm not saying he doesn't get any, but he should've been in the all-star game this year. Another snub for him. A knock on the Blazers is their bench, but their I believe they have potential to be great, starting in the playoffs. CJ McCollum, Thomas Robinson, and Mo Williams can definitely contribute. They could be a serious contender if that happens consistently.
My pick to win it all
No doubt in my mind, the Indiana Pacers are one of the most dominating defensive teams we've seen in the past decade, and everyone knows defense wins championships. They also have the best center in the game in Roy Hibbert and an all-star power forward in David West. Paul George is turning into a star, if not one already, and Lance Stephenson is finally living up to his potential. They also have a deep bench: Luis Scola, CJ Watson, George Hill, and Chris Copeland. Not to mention they added big man Andrew Bynum (probably playing very limited minutes), Evan Turner, and LaVoy Allen to that unit. The Pacers have a lot of great pieces, and they've shown that they know how to utilize them.