Virtual All-Star Ballots Available Virtually Everywhere but the Ballpark
Published on 30-Apr-2015 by bpfiester
Now's your chance, baseball fans, to get out and vote for your favorite players to appear in the 2015 MLB All-Star Game this summer in Cincinnati.
MLB implemented a major overhaul to the voting system for the Mid-Summer Classic this year. Fans will no longer be able to stuff the ballot box at the local ballpark. Instead, voting has been shifted online in partnership with Esurance, so be prepared to provide a Home-&-Auto quote request with your ballot.
And, dammit, don't even think of messing with any ballot but one sponsored by Esurance!
Gone are the days of ushers handing out paper ballots -- and hanging chads --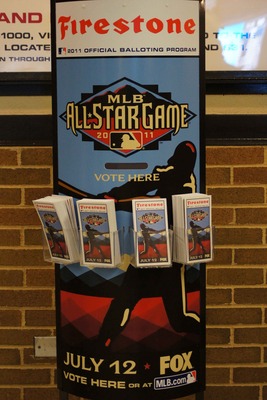 so the locals paying hard-earned cash or scarfing the corporate tix can vote for every player on the home team, regardless of whether or not the hometown hero deserves it.
Smart move on MLB's part, since fans are glued to their smartphones, anyways. Why not have them log on and vote that way, too? Pine, fir, and hemlock trees everywhere can breathe a sigh of relief. Thankfully, they can't fight back ... unless they're Ents, and even they get no respect these days.
Even though the All-Star Game is a little over two months away, a full month of baseball has gone into those sacred record books, and a few contenders are starting to separate themselves from pretenders. Like Nelson Cruz, for example. Welcome home to Texas!
This morning, I had some time in between appointments, waiting for flaky clients to return my phone calls, being placed on hold with the cable company, refilling my coffee cup, and letting the cat in and out for the 20th time since 6:00am.
So receiving an email invitation to fill out an All-Star ballot was a welcome distraction from my busy morning and an even better distraction from hearing about Jameis Winston and Marcus Mariotta over and freakin' over again. Is there something going on in Chicago today? The White Sox and Orioles probably would've played in front of an empty crowd at Comiskey Park yesterday, too, as clearly, the NFL Draft is king in the Windy City with all their prospects in attendance.
Good move starting the Blackhawks-Wild NHL playoff series tomorrow night. The Bulls are in Milwaukee, so the NFL hogs the spotlight once again. I'm shocked. Shocked!
But here, on this very page, baseball fans get an early treat! I'm revealing my All-Star ballot for constructive criticism, mockery, and Mean Tweets. As they say in politics: Vote the bums out!
Wouldn't it be great if political voting could be done online? Then, the next presidential election coverage would be over in 20 minutes! Instead, we'll get even more comprehensive coverage than the NFL Draft.
Oh, for the memories! Recent memories, even.
Before we get on with my selections, it's time again for a word from the sponsor, reminding you to read the fine print, dammit!
American League
C – Steven Vogt, Oakland A's
1B – Miguel Cabrera, Detroit Tigers
2B – José Altuve, Houston Astros
3B – Josh Donaldson, Toronto Blue Jays
SS – Marcus Semien, Oakland A's
OF – Adam Jones, Baltimore Orioles; Lorenzo Cain, Kansas City Royals; Hanley Ramírez, Boston Red Sox (*Note: the Mariners sure could use a player of Adam Jones's caliber)
DH – Nelson Cruz, Seattle Mariners (Cruz should switch with Ramírez, since he's clearly more comfortable playing in the outfield.)
National League
C – AJ Pierzynski, Atlanta Braves (Zounds! Didn't see that coming, did you?)
1B – Adrian González, Los Angeles Dodgers
2B – DJ Le Mahieu, Colorado Rockies (The most underrated player in baseball. And to hell with whomever de-Frenched his name! We're spelling it the way Charles de Gaulle would've wanted.)
3B – Matt Carpenter, St Louis Cardinals
SS – Angel Hechavarria, Miami Marlins (hometown hero Zack Cozart has a chance to overtake him but he better hurry)
OF – Matt Holliday, St Louis Cardinals; Corey Dickerson, Colorado Rockies; Giancarlo Stanton, Miami Marlins
It's interesting that fans can't vote for a National League DH because, you know, the DH doesn't exist in the Senior Circuit. Just ask Max Scherzer and Adam Wainwright.
Remember, folks, this is the 2015 All-Star Game, and careful consideration should be given when clicking the radio button next to each player's name. Lifetime achievement awards are for the Oscars.