It's Gonna Be a Blue October
Published on 16-Oct-2015 by Matt Modz
The MLB Championship series are upon us, and things are looking pretty blue.
The Royals play the Blue Jays on the American League side, while the Mets are taking on the Cubs in the National League.
That's right. The Mets and the Cubs in the National League Championship Series. Two teams with a combined record of 152-172 in 2014 each surpassed 90 wins this season and have now fought their way to within four wins of a World Series.
Who could've seen this coming?
Besides the creators of Back to the Future II, that is: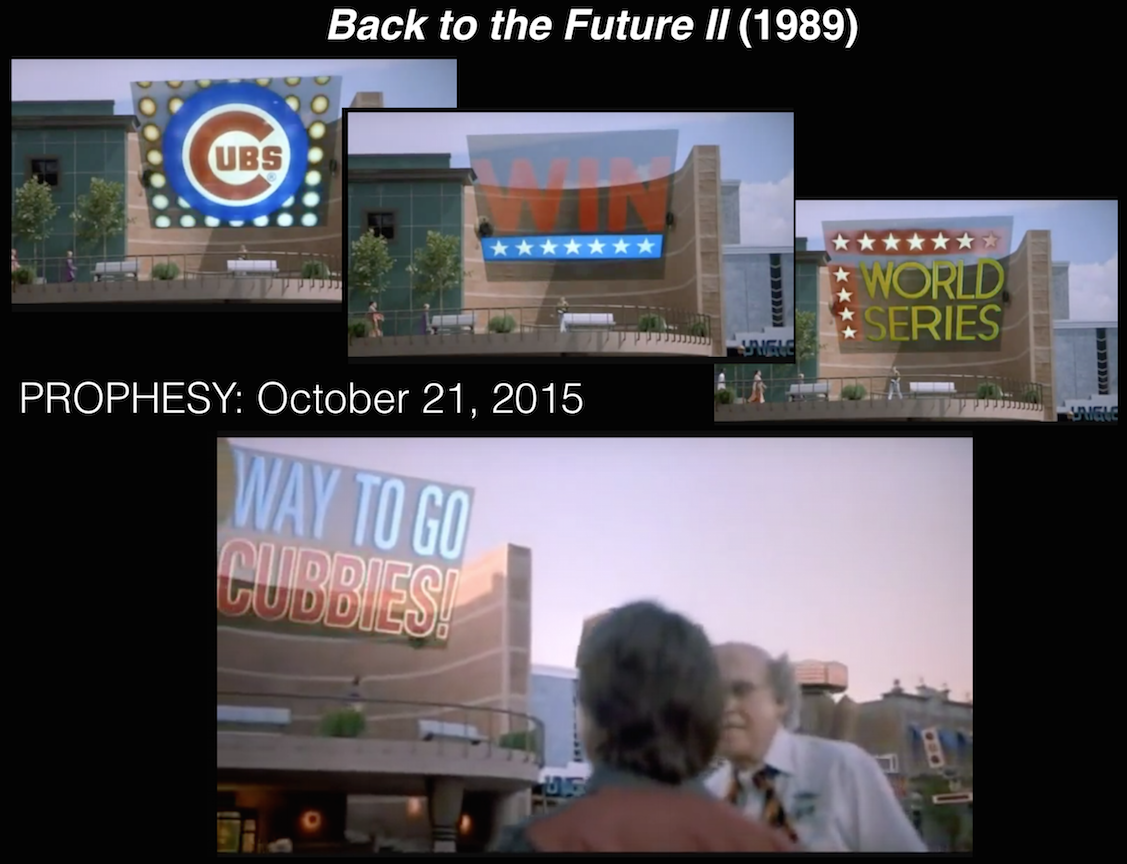 You don't need to go any farther back than the All-Star break to see Mets fans didn't have much faith that their team would make the playoffs:
They possessed one of the lowest-scoring offenses in the league. But after a trading spree that produced Yoenis Cespedes -- on the rebound, amazingly -- Juan Uribe, Kelly Johnson, and Tyler Clippard, the Metropolitans seemed to get a spark of life. Their bats pulled a complete 180, as they dominated the NL East.
Being a Met fan got a whole lot easier.
The fact that New York's young pitchers have been able to handle playoff pressure is also a welcome surprise. Their rotation -- Jacob DeGrom, Matt Harvey, Noah Syndergaard, Steven Matz -- have an average age of 25 years and are pitching like seasoned veterans in the first playoff run of their careers.
Cubs manager Joe Maddon is entertaining as always, and the job he's done with the club is nothing short of a miracle.
Maddon used to be a coach under Mets manager Terry Collins when they were with the Angels from 1997 to 1999. Little did they know that 16 years down the road, they'd be managing against each other with a World Series berth on the line.
The future of baseball is here. Harken back to 2012 and note that all four remaining teams have improved little by little every season:
Mets

Cubs

Jays

Royals

Totals

2012

...
74-88
61-101
73-89
72-90

280-368

2013

...
74-88
66-96
74-88
86-76

300-248

2014

...
79-83
73-89
83-79
89-73

324-324

2015

...
90-72
97-65
93-69
95-67

375-273
Of course, Kansas City made the Series last year and took it to seven games before falling to Madison Bumgarner and the Giants.
But the Royals had never been a real sexy pick until this season, and now their fans are doing what they can to take up the slack:
The Blue Jays had it a little harder this season.
Coming into 2015, their pitching staff left much to be desired. As such, TO seemingly begain their campaign with a rotation full of No 3 starters.
Around the All-Star break they trailed the New York Yankees by as much as seven games in the AL East. They seemed to be spinning their wheels. But than things changed.
Toronto had grabbed an ace to head rotation and added, arguably, the best offensive shortstop in the game to bolster their already scary lineup at the plate. From then on, the Yankees were no longer much of a threat, as TO took the AL East with ease.
So here we are. Blue v Blue and Blue v Blue; all blue everything from here on out.
Although each team's World Series history is limited, each one contained famous -- or infamous -- incidents:
So this year, baseball will witness someone relatively new get back in the winner's circle, with the signature moment TBA.