Here's Your 2015 NL Central Preview
Published on 7-Apr-2015 by bpfiester
This must be how Chicago Cubs fans feel after 107 years of misery.
Actually, 107 years and one day.
And yes, there was other misery, too. But Cubbie fans could at least count their lucky stars they weren't subjected to this kind of Misery:
Will this finally be the year they break the curse of the billy goat, or will another season pass with the ivy turning brown?
Memories of Mordecai Brown, Jack Pfiester, Ed Reulbach, and Tinker-to-Evers-to-Chance remain the last beacon of hope for little Cubbies abounding in the north side of Chicago.
Not Banks, not Santo, not Ryno, not the Hawk, and especially not Slamming Sammy, but the aforementioned dude with three fingers had the God-given ability -- and thanks to what's known as Merkle's Boner, a bit of luck -- to win a World Series championship. Pretty much sums up the Loveable Losers.
Expect another typical, close fought battle for the NL Central division crown again in 2015. Expect to see October baseball in St. Louis again in 2015.
1. St Louis Cardinals (96-66)
The Redbirds have become the model franchise in MLB, having made the post-season in four consecutive years; 2015 will make it five.
A bold move was made to acquire Jason Heyward from Atlanta for SP Shelby Miller. The Cardinals are stocked with quality starting pitchers, so giving one up for a Gold Glove-caliber, power-hitting corner outfielder made sense.
Jordan Walden was a throw-in for the Heyward deal, and now the Cardinals have one of the best bullpens in the majors.
One of the top prospects in the game was taken from us 'way too early with the tragic death of OF Oscar Taveras, and St. Louis will likely rally around his memory.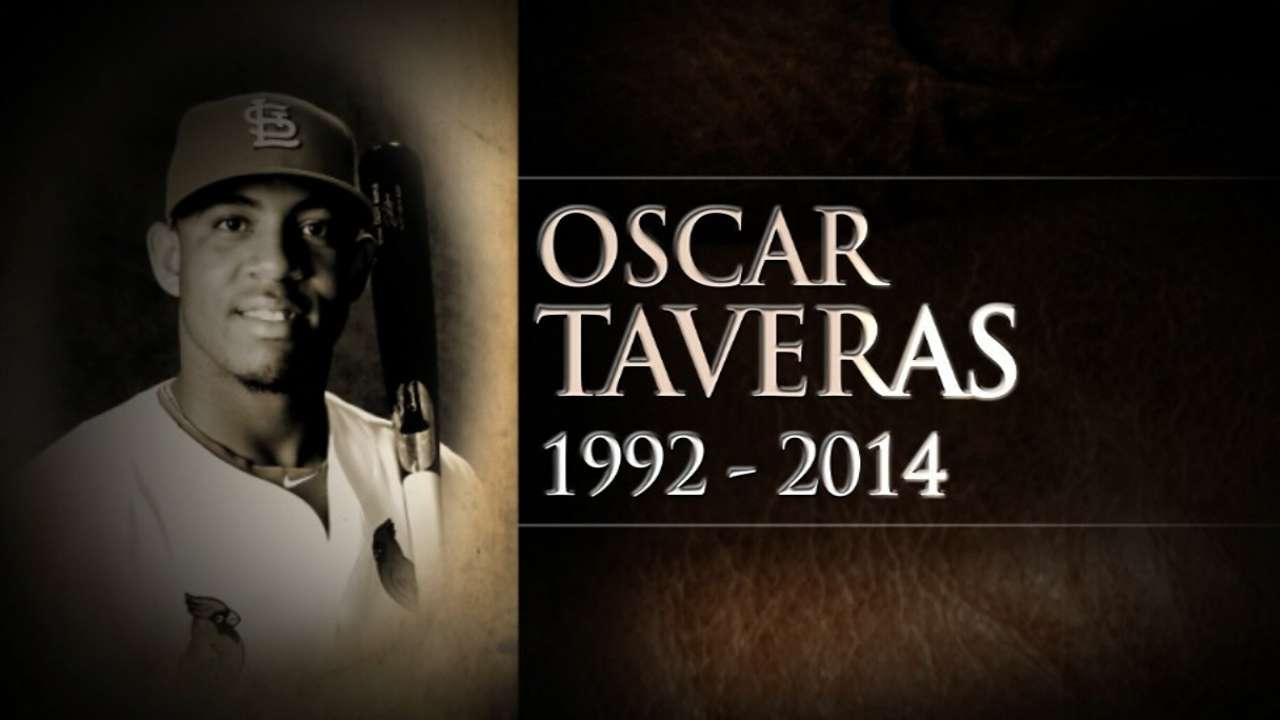 The Cardinals-Cubs rivalry has a chance to supplant Yankees-Red Sox as the best in baseball in the national mind. Locals would say it did so long ago; their games have sold out even when both teams had bad years. It's going to be a hot summer in eastern Missouri.
Additions: Mark Reynolds, Jason Heyward, Jordan Walden, Matt Belisle
Addition by Subtraction: Shelby Miller, AJ Pierzynski, Mark Ellis (retired), Oscar Taveras (deceased), Pat Neshek
2. Chicago Cubs (89-73)
This may be a sentimental pick. The Cubs' time will come; maybe not this year, but I expect them to compete for a Wild Card spot.
Not only did Chicago make a big splash by prying Joe Maddon and his Coke-bottle glasses away from Tampa Bay, but they signed one of the top pitchers on the market, Jon Lester; traded for a stud catcher, Miguel Montero; and were confident enough with their team ... cough, cough ... they sent top prospect Kris Bryant down to the minors.
Apparently a spring training line of 9 HR's, 15 RBI's, and a .425 batting average isn't good enough for a spot on this juggernaut.
We all know why the Cubs sent him down: that lame CBA stipulation giving the club an additional year of control by starting the MLB service time clock later.
Bryant will be with the Cubs this season, no doubt about that. For the next two weeks, though, I fear for pitchers in the Pacific Coast League.
Theo Epstein and Maddon are certainly a pair to draw to, and the Wrigley faithful will quickly see it's all part of a master plan.
Cubs fans come in all shapes, sizes, and levels of prominence:
Additions: Miguel Montero, Dexter Fowler, Chris Denorfia, Jon Lester, Jason Hammel, Phil Coke, Jason Motte
Addition by Subtraction: Justin Ruggiano, John Baker, Luis Valbuena, Dan Straily, Wesley Wright
3. Pittsburgh Pirates (88-74)
When a franchise produces 19 consecutive losing seasons, it's difficult to start off spring with that renewed sense of hope that every franchise endures. However, the Pirates have now made the post-season two years in a row and boast one of the best outfields in baseball, featuring 2013 NL MVP Andrew McCutchen and defensive wiz Starling Marte.
RF Gregory Polanco will get a crack at his first full season in the big leagues, and if he produces as expected, the Buccos will be in contention all year.
Scoring runs will be a challenge for this team, even with McCutchen and Pedro Álvarez in the middle of the order. They will miss Russell Martin more than people think.
The rest of the lineup leaves nothing but question marks with the likes of Jordy Mercer, Neil Walker, Josh Harrison, and Francisco Cervelli slotted as part of the starting lineup.
Pittsburgh brought back an old friend, SP AJ Burnett, to team with Francisco Liriano as a decent one-two punch at the top of the rotation. They can both continue to mentor Gerrit Cole to become more than just another deckhand. He's got First Mate written all over him.
The fifth spot in the rotation seems to be a quagmire of retreads and fuzzy, heart-warming comeback stories, so look for the Pirates to be heavy players at the trade deadline to shore up the back end of that rotation.
It's good to have Pittsburgh back in the baseball conversation. The United Steelworkers deserve it!
Additions: Francisco Cervelli, Brent Morel, Jung Ho Kang, Sean Rodriguez, Corey Hart, Steve Lombardozzi Jr, AJ Burnett, Antonio Bastardo,
Addition by Subtraction: Travis Snider, Russell Martin, Edinson Volquez, Jeanmar Gomez, Wandy Rodriguez, John Axford, Vin Mazzaro, Gaby Sanchez
4. Milwaukee Brewers (80-82)
Milwaukee comes into the 2015 season with almost an identical lineup to 2014, save for 1B Adam Lind, who was acquired in a trade with Toronto for SP Marco Estrada. This is a huge upgrade over perennial K King Mark Reynolds, even though they gave up a decent starter, which is an area of concern for the Brewmeisters.
Trading SP Yovani Gallardo to Texas didn't make much sense, but he may feel more at home pitching closer to his home in Mexico. ¡Lo siento señor, no tenemos cerveza en Milwaukee!
The Brew Crew did take some steps to address the bullpen, signing Neal Cotts away from the Rangers -- couldn't Texas just have thrown him in the Gallardo deal? I'm thinking out loud here -- as well as trading for Jonathan Broxton at the 2014 trading deadline's 11th hour, and even gave Dontrelle Willis a spring training invite to see what he had left in the tank, after which he quickly decided to head home to East Oakland and kick it with his boyz.
Closer Francisco Rodríguez was brought back a second time to do what K-Rod does. If he falters, they always have Broxton waiting on deck ... or is that warming up in the bullpen? Eh, what difference does it make? This team is as flat as a keg of Miller High Life after an eighth-inning pitching change.
Lots of beers will be consumed this spring, summer, fall, and even winter, because what else is there to do in Milwaukee?
Additions: Adam Lind, Luis Jimenez, Neal Cotts, Francisco Rodriguez
Addition by Subtraction: Rickie Weeks, Lyle Overbay, Marco Estrada, Yovani Gallardo, Mark Reynolds, Tom Gorzelanny
5. Cincinnati Reds (67-95)
On paper -- you know, the 8.5 × 11 lined, white sheet on which you use a writing utensil for compostion -- the Reds should have a pretty competitive team, led by Joey Votto and Jay Bruce.
Just like the Brewers, Cincinnati has essentially the same exact lineup as last year, save for newcomer LF Marlon Byrd.
Votto played 62 games last year, so if he adds 100 to that total, they'll be in good shape. What kind of shape Votto will be in, though, is a big question mark.
2014 All-Stars 3B Todd Frazier and C Devin Mesoraco need to continue their ascent into big-league status if the Reds are even going to think about sniffing the playoffs. Wonder what that smells like?
Ace Johnny Cueto leads the rotation, but the Reds traded Alfredo Simon and Mat Latos in the off-season, leaving gaping holes to be plugged by Mike Leake -- see what I did there? -- Jason Marquis, and Anthony Desclafani. Homer Bailey will begin the season on the DL and is likely to miss most of April. If that's the case, the Reds will have a tough time staying out of the cellar.
Cincinnati gets to host the All-Star game for the first time since 1988, when Rookie of the Year Chris Sabo was selected as the hometown hero at Riverfront Stadium. Will Billy Hamilton get the same treatment as his metal shop, safety-goggle wearing counterpart did some 27 years ago? Let's hope so, because there isn't going to be much to cheer about this summer in Ohio.
When do the Bengals open training camp?
Additions: Marlon Byrd, Dan Johnson, Anthony Desclafani, Jason Marquis, Eugenio Suarez, Burke Badenhop, Paul Maholm
Addition by Subtraction: Mat Latos, Alfredo Simon, Ryan Ludwick, Chris Heisey, Ramon Santiago, Roger Bernadina