All-Time Jewish Baseball Heroes
Published on 26-Dec-2014 by bpfiester
Put on your yarmulke,
It's time to celebrate Chanukah
~ Adam Sandler
'Tis the season to be Hot Stovin', fa-la-la-lahhh ... and so on.
It's time, then, to take our minds off what's trying to be passed off as professional sports nowadays, like a Titans-Jaguars game on Thursday night.
In case you haven't wrestled a flat-screen TV away from another rabid shopper in the past couple weeks or noticed your Sunday paper is three times as thick as normal, you may not be aware we're now transitioning from the Christmas rush to the Boxing Day exchange phase of the holiday season..
If you're one of those overzealous people who get completely wrapped up -- pun? what pun? -- in the holidays, you should also be aware that the Festival of Lights, aka Hanukkah, started on 16 December.
Now we're not here to preach Judaism or present a history lesson on Jewish customs. Anybody can do a search on Hanukkah for themselves. If you're so inclined, you could even visit a local synagogue and meet with a rabbi to ensure an authentic experience.
Let's leave religion to the professionals and baseball to the wannabe amateurs. But let's do take a look at where the 'twain meets.
There's a long and storied history of Jewish baseball players in professional baseball, and what with the USA's renewed friendship with Cuba, hopefully the multi-cultural influence of baseball will continue to grow and reach communities across the globe.
Assembling an all-star team is never easy,
as there are players sure to have their feelers hurt and sportswriters sure to blog about snubs, so this is as subjective as it gets. However, the choices are pretty straightforward.
If you care to disagree with any of these selections, please submit all inquiries to The Dudes here at The Daily Player.
I'm not really in charge.
Catcher – Brad Ausmus
The Detroit Tigers manager and former player gets the nod behind the dish, ahead of Phillies All-Star Mike Lieberthal, as the leader in games played by a Jewish player. A tremendous defensive catcher, Ausmus won three Gold Gloves with the Astros and was an All-Star in 1999 with the Tigers.
Brad was not much of a threat at the plate, though. The only time he led the league in any offensive category was in 2002, when he grounded into 30 double plays. Guess somebody had to take the lead.
Ausmus was involved in several trades and transactions during his career, which started with the Colorado Rockies selecting him from the Yankees in the Expansion Draft. He was then traded to the Padres during the 1993 season, and after that, it was a revolving door through Detroit, Houston, back to Detroit, back to Houston, and finally, he finished his career in 2010 with the Dodgers.
Ausmus was traded with CJ Nitkowski twice, was traded for, and with, Doug Brocail, and fetched the late, wonderful person that was Jose Lima. Brad seems to have a great temperament and knowledge of the game and looks to be off to a successful managerial career. It doesn't hurt to have Miguel Cabrera and Justin Verlander, either.
1B – Hank Greenberg
The Hebrew Hammer was one of the top sluggers in baseball history, winning AL MVP awards at two different positions. Greenberg was the first player drafted to serve his country in World War II and was honorably discharged two days before the Pearl Harbor attack, which led him to re-enlist. Greenberg missed four seasons while serving, which cost him some numbers but not prestige.
Besides holding the AL record for RBI's in a season -- 183 in just 154 games! -- he was the first player to hit 25+ HR's in both leagues.
Greenberg garnered unwanted attention for refusing to play on Yom Kippur in 1934, even though the Tigers were in the middle of a pennant race. He still managed to hit 63 doubles that season and set a precedent for future big-league Jewish players for observing religious holidays.
Greenberg was one of the few players to openly welcome Jackie Robinson into the league in 1947 and is undoubtedly this team's cleanup hitter and captain. He'd probably drive to your house and rescue your kitten from a tree or water your plants while you're on vacation if he were still alive today.
2B – Ian Kinsler
Kinsler is one of the top 2B currently active in baseball and is just as active in the Jewish community. He reportedly wanted to play for Team Israel in the 2013 World Baseball Classic but was never afforded the chance. Traded by the Rangers for Prince Fielder in 2013, it's clear Detroit got the better of this deal. Expect Kinsler to improve even more and claim the No 1 spot as the top 2B in baseball next season. He's already the Jewish stolen base leader.
3B – Al Rosen
Another feared AL slugger like his Hebrew Hammer counterpart, Hank Greenberg, Rosen was unanimously named 1953 AL MVP and was tabbed by noted historian Bill James as the greatest season by a 3B in baseball history. That's right, he was better than 1980 George Brett or 1999 Chipper Jones.
Unfortunately, Rosen had an injury-shortened career lasting just 10 seasons; otherwise, we'd be talking about a HOF'er. Rosen was defensive about his Jewish heritage, often confronting players and fans who shouted anti-Semitic slurs at him. There's no competition at the hot corner for this All-Star team, and he might also be the CEO/Club President, roles he served for the New York Yankees (1978-1979), Houston Astros (1980-1985), and the San Francisco Giants (1985-1992).
SS – Lou Boudreau
Rosen's teammate on the Cleveland Indians, Boudreau was player/manager the last time the Tribe won the World Series in 1948, which is the second-longest championship drought in baseball. I don't need to remind you which team has the longest drought, do I? He's credited for inventing the infield shift -- known as, obviously, the Boudreau Shift -- because Red Sox superstar Ted Williams was a dead pull hitter. Boudreau would play in shallow RF during the Splendid Splinter's AB's.
His son-in-law is Denny McLain, the last pitcher to win 30+ games in a season. Boudreau was instrumental in stopping Joe Dimaggio's 56-game hitting streak and was a longtime Chicago Cubs broadcaster, an irony if ever there was one.
OF – Ryan Braun, Shawn Green, Sid Gordon
Shawn Green is one of the more notable Jewish players of the past 20 years, and Braun has gained attention for all the wrong reasons. Gordon had a pretty solid career playing for the Giants, Braves, and Pirates in the 30's and 40's. It remains to be seen if Ryan Braun can overcome his past transgressions and regain the trust of baseball fans from Sheboygan to Jerusalem. It's difficult to tell if Shawn Green's career was clean, as he hit 49 HR's in 2001 playing half his home games in Dodgers Stadium. Plus his career took off when José Canseco came to Toronto. Things that make you go hmmm.
Starting Pitcher – Sandy Koufax
There really was no other choice for our ace, or אייס, as they say in Hebrew. Koufax is one of the most dominant pitchers of all-time and compiled a remarkable career over just 12 seasons. Playing for his hometown Brooklyn Dodgers in 1955 must've been a thrill for the young bubala and extremely heartbreaking when the Dodgers moved out West to Los Angeles. Fe!
Koufax drew the disdain and ire from Springfield's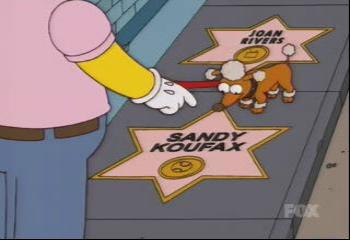 Krusty the Clown when he was walking his dog and, stumbling upon Koufax's star on the Jewish Walk of Fame, screeched: Sandy Koufax?! He cost me $50,000 when he didn't pitch on Yom Kippur!
Thankfully, with the help of Mr. T, Krusty the Clown has a proper bar mitzvah and became a full-fledged Jewish man. Hopefully, Krusty also learned his lesson to never again bet against Jewish ballplayers exercising their faith on important religious holidays. Koufax didn't even pitch a World Series game that fell on Yom Kippur!
Bullpen – Barry Latman, Craig Breslow, Scott Radinsky
There have been some pretty good relievers of Jewish faith. However, there's no true closer, so we're going to use a committee. It's not the most cockamamie idea; after all, until Tony LaRussa popularized the concept with Dennis Eckersley in that role in Oakland, there was no such formal role as a closer.
No schmoes or yutzis are allowed in this group, though, only quality arms in the pen. Latman put together one of the best seasons ever by a reliever in 1958 for the White Sox, and he'd be our go-to guy in a tight save situation. If things in the bullpen go south, fans can make the pilgrimage to the Wailing Wall to search for answers. Not sure if they serve kosher dogs at ballparks around the country, but there's nothing like comfort food to warm the soul.
There have truly been some great Jewish ballplayers over the years, and some current stars like Braun and Kinsler continue the tradition of giving boys inspiration in their faith. Well, at least Braun offered an apology for using PED's, but he may need glasses to comprehend the public's perception. He should consult a quality Jewish lawyer.
As the Eight Crazy Nights came to a close, hopefully, you remembered to respect your friends', family's, and co-workers' beliefs if they choose to light the Menora, because nothing resembles the holiday season more than shredded wrapping paper and a pile of bows on your living room floor.