The Mex Wrecks Columbus Hex
Published on 12-Nov-2016 by Alan Adamsson
It's been 15 years since the USA Men's National Team lost a World Cup qualifier at home.
Notably, Columbus has played a major part in the streak.
It's a soccer-specific venue that packs the house with American fans, leaving sparse space for opposing fans, and
It's hosted Mexico four times in the past and won 2-0 every time.
But as they say, past performance is no guarantee of future results. And this time, Mexico put paid to the entire notion, not to mention the streak:
How in the name of ... who? Alexi Lalas? ... does a defender get free on a corner?
That time-tested bromide, old age and treachery will always beat youth and skill, woulda seemed appropriate. After all, Mexican legend Rafael Márquez is 37.
Problem is, John Brooks is the dude who lost track of him on the fateful play. He's 37. Must've got out-treachered
Whatever. It's totally inexcusable in the final minute. But it does give the Mexicans an opportunity they must've been craving for the past 15 months: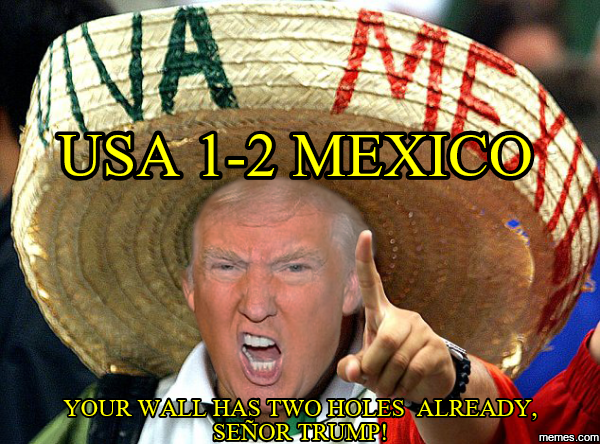 Then again, maybe there's some latent indignation that the Canadian immigration website crashed after the American elections and ot theirs.
Concacaf's Hex competion is just getting started, and odds are both sides will see their ways clear to the World Cup in 2018.
But more than seeding's at stake here.
Ever since the USA started to take international soccer seriously -- as in being competitive -- this rivalry's become personal.
The Hex rematch is on 13 Jun 2017, and somewhere between now and then, the USA would be well served to find three points on the road somewhere to make up for dropping those they left on the field in Columbus.
It'd be a good idea to start in Costa Rica this coming Tue 15 Nov.