Some Real Teeth: Three Punishments FIFA Must Consider for Luis Suarez
Published on 25-Jun-2014 by Xavier McSpaniel
Luis Suárez got a bit silly.
Just a bit.
And clearly he must pay for his side dish of Chiellini during Uruguay's 1-0 triumph over Italy on Tuesday.
But what sentence will suffice for a man who makes Hannibal Lecter look like an amateur?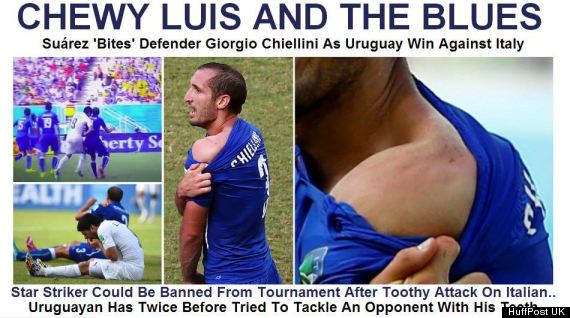 Already, calls are coming thick and fast to have Suárez suspended for the remainder of the World Cup. A jail term has been bandied about. Former England international Stan Collymore has even suggested Suárez be stapled to a couch in order to treat his impulse control issues.
We here at The Daily Player have our own ideas as to what punishment could say ciao to the chow:
Force him to watch replays of the game: Aside from its pretensions of professional wrestling, the Italy-Uruguay tilt was a disgrace. One viewing might be enough to scare Suárez straight. Or at least make his teeth fall out in sheer disgust.
Send him back to England: Eating Liverpool with some fava beans and a nice Chianti would be a bitter pill to swallow.
Get the Ghanaian witch doctor to give him lockjaw: Nana Kwaku Bonsam is just about done with Cristiano Ronaldo, so let's see what he can do with The Cannibal.