Was IK's Smackdown the Jets' Big Break?
Published on 12-Aug-2015 by Matt Modz
Well, another alleged bad break for the Jets.
Geno Smith broke his jaw and is going to miss the next 6-10 weeks.
IK Enemkpali, a second year linebacker who joined the Jets as an undrafted rookie last season, hit the former West Virginai Mountaineer right on his blindside with a punch that cost him his job and dreams of finally being accepted by Jets fans, who for the most part were not amused.
The reason? $600
Apparently IK had bought Geno a plane ticket -- one that Geno never used -- and he wanted his money back. You can kind of see where IK was coming from. He's not the starting quarterback, he only had three tackles last season on upwards of 40 snaps. $600 means a lot more to him than it would to Geno.
Here's a reenactment of the altercation.
But now IK isn't on any roster. And he probably isn't going to get that money back. As if he ever was.
So, looking at the bigger picture, maybe this is more Ryan Fitzpatrick's big break now that he shouldn't have any competition for the Jets' starting job.
It's probably even a big break for the Jets as a franchise. There was already speculation as to how the team would handle Geno's poor play -- which was inevitable -- and when they'd end up giving Fitzpatrick his shot. Well, as the Chambers Brothers so accurately stated, time has come today.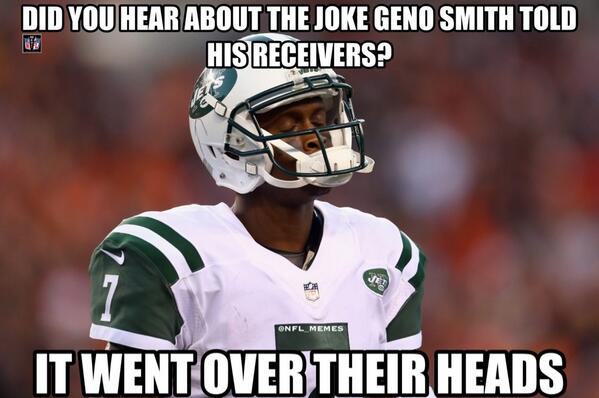 It's New York, and Jets fans saw the quarterback position as their biggest need heading into this post-season. Fitzpatrick may not be the solution they had hoped for, but he may be a band-aid that can temporarily mend the Jets' metaphorical broken jaw that Geno Smith has become of the past two seasons.
Jets fans really don't seem too upset with IK's actions. If anything, there are more fans thanking him for solving the quarterback controversy for them.
After all, Fitzpatrick is a smart guy, going to Harvard and all. He won't be caught skipping team meetings to go to the movies like Geno Smith did last season.
Worse comes to worse, the Jets drafted Bryce Petty out of Baylor in the fourth round this spring. Dude was regarded as one of the best available chuckers in the draft once Jameis Winston and Marcus Mariota were off the board.
There's still a month until the season starts, and the Jets have yet to play a pre-season game, so they have plenty of time to figure out what they want to do at quarterback. Right?
Fitzpatrick should be more than a servicable replacement for someone whom many already considered the 32nd best starting quarterback in the NFL. Sorry, Geno, but Fitzmania is about to hit New York.