Super Bowl XLIX: A Play that Will Live in Infamy
Published on 2-Feb-2015 by J Square Humboldt
For all the high-octane, razzle-dazzle, glorified pass-goal displays that football has become, conservative words from the late Woody Hayes still keep it real.
Quoth the legendary Ohio State Buckeye coach:
Three things can happen when you pass the ball, and two of them are bad.
Kinda like this:
With only 25 seconds between the Seattle Seahawks and another improbable post-season comeback, with the ball on the half-yard line on second down and a timeout in pocket, with the league's best ground-&-pound RB in the backfield ... well ...
And they did it.
OK. Full marks to rookie Malcolm Butler -- who just became the answer to a Super Bowl trivia question -- for doing his homework, recognizing the formation, covering lotsa terrain in a hurry, and holding on to the ball in close quarters.
But what in the name of Student Body Right and Student Body Left was the coach who resurrected his reputation at USC thinking?
It's the sort of devastating decision that can crumble a fan base and a team's trust from within.
It had to take a futile and stupid gesture of the highest order to keep big play stalwart Jermaine Kearse's acrobatic miracle catch earlier in that fateful drive from being the lasting memory of Super Bowl XLIX: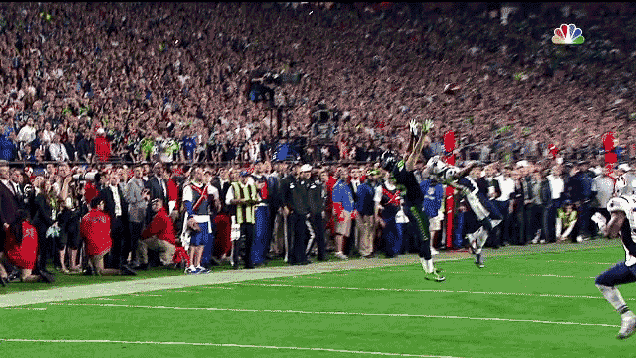 The first 59 minutes of game time actually outdid the sideshows, which wasn't all that tough this year. Katy Perry's populist halftime act had nothing for garage rockers, and only one commercial had any bite to it:
Bill Belichick's well-crafted game plan featured wounded warrior and Super Bowl MVP Julien Edelman -- wait; what? -- and the defense bottled up Russell Wilson sufficiently to keep the game within reach in spite of Tom Brady's mistakes. But only the diehards in Patriot Nation will recall much of that as the years pass.
As to everyone else?