NFL Week 2: The Twilight Zone
Published on 23-Sep-2015 by Matt Modz
We are now two weeks into the NFL season and it's already time to wonder.
What in the name of St Vincent Lombardi is going on?
Let's look at some of the winners in Week 2:
Last season, those six squads combined for a record of 23-73.
Try to recall the last time that dubious group all won on the same day.
The last time the Raiders, Buccaneers, Jaguars and Browns all won on the same day was 25 Nov 2007.
Meanwhile, the Ravens, Colts, Seahawks, Lions, Saints, and Eagles are a combined 0-12 after two weeks. These six combined last year for a 61-35 record.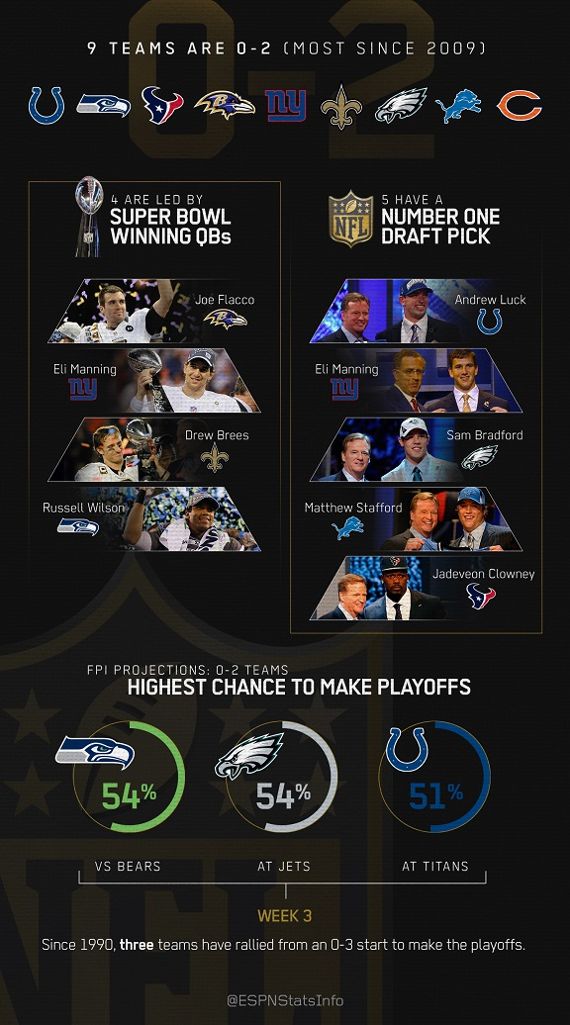 Where's the drug testing? Did the Whizzinator make a stealth comeback or something? Was this a weekend tribute to Pete Rozelle's any given Sunday bromide?
OK, part of the world was still spinning on its axis. The Patriots, Broncos, and Cowboys are all 2-0, which was kind of expected. Good for them.
Most 'experts' picked the Ravens or Colts to make it to the Super Bowl this season. To do it now, they both have a deep hole from which to extricate themselves. Since 1990, only 11.2% of teams who started 0-2 have gone on to make the post-season.
Granted, none of them had Kam Chancellor, but that's because their hard hittin' safeties knew that a contract's still a contract, even in the fingers-crossed front offices of NFL teams.
This trend can't keep up, can it? The Jags are in first place in their division! Even through two games, who would've predicted that!?
Still, this is no time to panic if your team is 0-2.
They'll turn it around, they've got to. This is today's NFL. The better franchise's always show their true colors. Don't they?
In other news, Josh McCown was named the starter over Mr Football in Cleveland again this week, and if Drew Brees can't go, Luke McCown will start for the Saints.
How these McCowns keep getting jobs is a tribute to The Shield's preference for vanilla. The dudes have seemingly been in the league forever, but at least they're amusing to watch.