NFL Snark Rankings: Week 4
Published on 12-Oct-2016 by bpfiester
One is the loneliest number that you'll ever know
One is the loneliest number even worst then two
-- Filter, One
It's lonely at the top, ain't it?
And yes, I know that song was first done by Three Dog Night. For the record, Harry Nilsson wrote it. So there.
Anyway, if you've ever been in a situation where you're the one who had to pick up the slack for a co-worker or doing somebody else's job for free, then you've come to the right place.
Therapy is way too expensive.
Speaking of therapy, the city of Cleveland is getting a reprieve this week, since the Indians are making an October run not seen since 1995, or dare we say 1948, the last time the Tribe won a World Series title, thanks to player-manager Lou Boudreau.
When Hollywood makes a movie from your futility, you know you've reached new heights.
Hollywood movie makers would be wise to make note of the Cleveland Browns situation.
It couldn't be any worse than the crappy remakes they've thrown at us the past couple of years.
Jennifer Garner's probably comping those air miles commercials for the ones she used to get as far away from that flick as possible.
And Kevin Costner? Find another corn field, dude.
The Browns lost again this week, so why would we expect much change in the Snark Rankings? You know who's back this week.
1. Cleveland Browns
Previous: 1
Another day, another dollar for the Dawg Pound. The W's are few and far between in Cleveland, and it's not going to get any easier when Tom Brady comes back from the most ridiculous suspension in league history next week.
What is working for Cleveland is handing the ball off to RB Isaiah Crowell. 120 yard rushing on 16 carries and taking it to the house could prove to be a winning formula going forward.
What is not a winning formula is forgetting to cover TE Jordan Reed, or RB Matt Jones for that matter. Triple-team him if you have to!
Could this team match the 2008 Detroit Lions at 0-16? They have a winnable game at Tennessee in two weeks, and that's literally their only shot to avoid a big goose egg.
Is first year head coach Hugh Jackson on the hot seat?
2. Miami Dolphins
Previous: Unranked
So much for challenging the Patriots for a division title. This team looked awful on Thursday night, and I'm not just referring to the creamsicle uniforms the wardrobe department thought would be a fashion statement.
Bengals WR AJ Green torched the secondary with 173 yards receiving on 10 grabs. Fantasy owners, rejoice!
Speaking of fantasy owners, this writer thought it would be a good idea to bench WR Kenny Stills after watching him drop a sure fire TD in Week 1 against the Seahawks.
Well, one 74-yard TD reception later, and it cost me a precious victory to an unworthy opponent.
The Bengals proved to be a worthy opponent for the Dolphins.
3. Indianapolis Colts
Previous: Unranked
It's not so much that the Colts are a horrible team, but all things considered, 1-3 is horrible. Losing to the likes of the Jaguars will keep you prominently atop the Snark Rankings until further notice.
Perhaps the time difference in London got to the Colts players, and they just couldn't shake the jet lag. Perhaps they got distracted sightseeing around Jolly Old England.
I'm sure the Jags players had an unfair advantage, flying in from the East Coast. That extra hour goes a long way!
Andrew Luck still doesn't look right, and we have to start to wonder if this is a trend or if he'll even survive the rest of the season. Dude's getting creamed out there! Divisional games against the Texans and Titans could decide their season and give the Colts the upper hand in a wide open division or bury them further in the basement. Indy will go as far as Luck will take them. I hope so, anyway, since he's on my fantasy team.
Remember when Suck for Luck was the NFL draft motto? Boy, how times have changed.
4. Detroit Lions
Previous: Unranked
A major shake-up here in the Snark Rankings sees our fourth newcomer after Week 4. Losing to the lowly Bears is not how Lions fans thought this season would shake out.
This team has lost seven straight Wild Card games and last won a playoff game in 1991 when a man named Barry Sanders ruled the Motor City.
Clearly, they're missing Calvin Johnson, and with good reason. He was one of the most dominant WR's in the game for nine seasons. Golden Tate hasn't filled the gap, but Marvin Jones Jr sure has.
This team let Brian Hoyer march up and down the field at will. Can you spell D-Fence?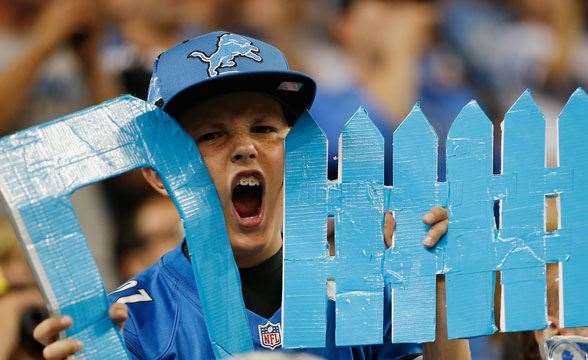 Lions QB Matthew Stafford had another setback, and we don't mean injuries. Dude threw two INT's against no TD passes. Ouch!
They have absolutely no running game, which doesn't bode well for the rest of the season if they're going to make a serious playoff run.
Wonder if that Barry Sanders guy is busy?
5. Tampa Bay Buccaneers
Previous: Unranked
There you have it, nearly a clean sweep of previously unranked teams. Love to see the fresh blood amongst so many qualified teams.
Another game in Tampa Bay delayed due to weather is becoming really annoying. Can we build a domed stadium?
Oh. Yeah. Right. And the Rays are trying to get out of it.
QB Jameis Winston continues to look lost out there. The Buccos have no offensive threat to speak of, especially with RB Doug Martin injured, which looks like it could linger the rest of the season.
They are well on their way to six consecutive losing seasons and missing out on the playoffs again. Perhaps they can partner with the Rays and build a nice multi-use facility with a retractable roof. You know, so the game can still be played in the middle of a hurricane.
This team is not fun to watch, and the uniforms are hideous.
At least the Swashbucklers know how to look good!