NFL Snark Rankings: Week 17
Published on 31-Dec-2014 by bpfiester
Of our elaborate plans, the end
Of everything that stands, the end
No safety or surprise, the end
I'll never look into your eyes … again
~The Doors
The 2014 season came to a merciful end for the final five Snark teams, and for that we give thanks.
Yes, I realize Thanksgiving was over a month ago, and I wasn't sure I'd be able to finish analyzing and critiquing 17 full weeks of bad football.
You know what they say: never stoop down to their level, but it's unavoidable for this series.
Don't be sad, football fans, you'll be treated to one last Playoff Edition of Snark Rankings in early February, after the Lombardi Trophy has been awarded to the Seattle Seahawks ... I mean, the eventual Super Bowl champion. I'm not a homer or anything, just an objective sportswriter who happens to live near the Emerald City, and if the Snark Rankings existed 20 years ago, the Seahawks would've been a strong contender each week.
The day after the season ended, pink slips were flying around the league. The big slip started in San Francisco, where Jim Harbaugh took note of the massive contract dangling before him in Ann Arbor and then took the head coaching job at Michigan. He was the lucky one to be employed immediately.
For Rex Ryan and John Idzik of the Jets, Mike Smith of the Falcons, and Marc Trestman and Phil Emery of the Bears, fortune was not as kind. They're damaged goods; it'd be surprising if they got re-hired before next season.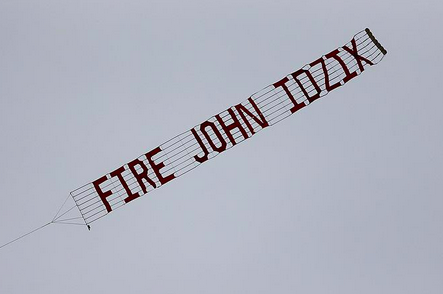 There could be even more rides on the coaching carousel as the off-season heats up, just like the winter thaw. So check back in July.
One thing is certain: the Tampa Bay Buccaneers are on the clock.
1. Tampa Bay Buccaneers (2-14) – Congratulations on winning the Marcus Mariotta sweepstakes! This team desperately needs a franchise QB. They had a lead going into the fourth quarter against the Saints and then allowed 16 quick points, losing the game, 23-20, to finish the season 0-8 at home. Accusations of tanking immediately followed, which drew strong denials from Tampa Bay coaches. Sounds like they lawyered up. The next four months will be filled with drama and intrigue as the four-letter network creates hype for their marquée event, the NFL draft. Will Bruce's Boys trade the pick and stockpile for the future or take the biggest gamble in sports? Don't bet on a sure thing when it comes to football. Or a Snark team's judgment.
2. Tennessee Tuxedos (2-14) – We'll say it again: when this sorry squad starts playing like Titans, we'll call them Titans. Until then ...
The Tuxedos are another team in search of a franchise QB. They're certain to part ways with first-round bust Jake Locker. They can't be trotting out a re-re-recyled Charlie Whitehurst to ... wait a minute. Is that enough re's for this dude? Where are Aretha's background singers when you need them? Aha! Hit it, ladies:
Anyway, you get the picture. That's no way to inspire confidence in Tennessee fans, whose last hurrah was the Music City Miracle in the 1999 playoffs.
Still, this is just karma for ripping a team away from Houston. The Oilers were a pretty fun team to watch in the early 90's. Even though this was Ken Wisenhunt's first season in Nashville, a 2-14 finish doesn't exactly provide job security. At least, they have the Predators to fill their sports fix. Would the Stanley Cup be displayed in Graceland? That would be cool.
3. Oakland Raiders (3-13) – Playing in the toughest division in football, nobody gave the Raiders one iota of a chance at even winning a game this year. Well, somehow, they won three, and they can thank the Seahawks for their victory against the Chiefs. This was one trend that held true almost every week: the team that played Seattle the previous week lost the next. The Raiders' off-season will likely be highlighted by hiring a new head coach. Now that Harbaugh's in Michigan, they can scratch him off the list, if he was ever on it at that price range. Oakland picks fourth in the draft; there will some quality players at that spot, and expect them to look for a top-flight pass rusher like Leonard Williams from USC or Shane Ray from Missouri, because we all know how awesome those Missouri DE's are.
4. Jacksonville Jaguars (3-13) – More was expected from the Jax-men this year, as they spent some decent coin in free agency, drafted a franchise QB in Blake Bortles, and drafted a big target in USC WR Marquise Lee. However, Bortles completed more passes to opposing DB's than TD's to his own WR's. The defense was the club highlight and improved greatly under head coach Gus Bradley. It appears his job is safe for now, but another 3-13 season will get him unemployment benefits and a hefty severance package. Playing in the worst division in football will allow room for improvement or a new home address. Not sure which way that will go.
5. Washington Redskins (4-12) – Darth Snyder's crew had a chance to play spoiler on Sunday, as they hosted division rival Dallas in the season finale and got drilled, 44-17.
By the way, did you know that in the late 1800s, the term cow boy was meant to be an insult? A slur? That was probably helped along by the fact that at least 25% of them were African-American; even more were Hispanics and Native Americans. It's amazing how perspectives change, isn't it?
Back to the NFL's versoin of Cowboys: to the surprise of many, Jason Garrett unleashed a high-powered offense on the league this season, so it was no surprise Dallas was able to score early and often against the 'Skins, as another miserable performance by the Washington D did them in. Look for Snyder to address concerns, complaints, and competition by scrutinizing every available player on the market.
However, Darth, a subtle word of advice:
For the love of God! Don't throw the kitchen sink at another franchise QB by trading all your first-round picks to move up and draft Mariota! You already have a Heisman Trophy-winning QB on your team!
It remains to be seen, though, how much longer that that holds true.
Despite the Commish cementing his image as a detached-from-reality jerk, it was quite a season the NFL gave us, even if some of the prime-time games failed to live up to the hype. Look for the NFL Network to demand flexing out of Thursday Night Football matchups like Tennessee v Jacksonville, because not only do fans have to pay top dollar to enter the stadium, but they have to pay for premium cable packages to watch games on TV, too.
Thursday nights are for sitcoms on NBC. Leave the Snark-level football for Sunday afternoons where it belongs.
Cos, Roger. Roger, Cos.
No wonder Bad Santa was so believable.
Re-rack!
Enjoy the playoffs, loyal readers; we'll meet again in February.
And when the music's over, turn out the lights ...