NFL Snark Rankings: Week 16
Published on 26-Dec-2014 by bpfiester
Merry Christmas, I don't want to fight tonight
~ The Ramones
Hope you're all enjoying a nice holiday break ... and lots of egg nog so you can stand spending so much time with family.
Finally, we get a break from Thursday night football, since the NFL was nice enough to give players time off and not drain anymore revenue out of them. Talk about squeezing blood out of a turnip! Besides, it was starting to get to them.
As we head into the final week of the 2014 season, there are actually a few loose ends that need to be tightened, like:
Will that latter honor go to Seattle, Dallas, Green Bay, Detroit, or Arizona? One of the others will get the 2-seed and a first-round bye in the playoffs.
In typical Snark Rankings fashion, the NFC South will be settled this weekend when the 6-8-1 Carolina Panthers square off against the 6-9 Atlanta Falcons for all the glory and the right to host a playoff game against one of the teams listed above. Good luck with that. Another sub-.500 division winner hosting a playoff game may cause the NFL to rethink the entire playoff structure.
As if they weren't doing that already.
There was a lot of outcry when the Seahawks won their division in 2010 and hosted the Saints in the infamous Beast Quake game. Well, that worked out rather nicely for Seattle.
There are even more loose ends for our Snark teams as there may be some accusations of tanking in order to improve draft position and with Oregon QB Marcus Mariotta sitting there as the top prize, who can blame the Titans, not to mention any names.
1. Tennessee Tuxedos (2-13) – This sorry crew traveled to glorious Jacksonville last Thursday to totally abuse NFL addicts with the worst Thursday Night Football game ever. Both teams sat at 2-12 coming into the game, and Don Cheadle's introduction -- while accurate -- got straight to the point, asking Why are you here?
A riveting 21-13 Jaguars victory -- we were impressed the offenses could count that high -- improved the Tuxes' draft position that's theirs to lose, literally, on Sunday when they travel to Indianapolis to take on the AFC South winner. Indy could still get a bye, so the Colts have lots to play for. Expect Andrew Luck to reestablish himself as a top-shelf QB after doubts have been raised.
A franchise QB is at the top of the Tuxedoes' wish list. However, I'm not sure if they're going to end up on Santa's nice list after that brawl with the Jets or even charging fans full admission to watch their games. The old adage you get what you pay for does not apply to Tux football. Nor does having famous literature characters perform a rendition of Away in a Manger.
2. Tampa Bay Buccaneers (2-13) – Nobody gave Bruce's Boys a chance against the Packers, even if it was played at Raymond James Stadium. Perhaps the Buccos should take investing advice from their corporate sponsor, as the new uniforms they employed this year are dreadful, and reliving the glory days of 2002 just won't cut it. That was 12 years ago, and Chuckie ain't coming out of the booth.
Since their Super Bowl destruction of the Raiders, Tampa Bay has enjoyed just four winning seasons and one playoff appearance -- in 2007 -- which ended with a home loss to the New York Giants. It shouldn't be difficult to make the playoffs in such a terrible division, but like the Tuxedos, they're competing for the right to draft Marcus Mariotta. Would Jameis Winston be a better fit, remaining close to home in Florida? Where's Vinny Testeverde when you need him?
3. Oakland Raiders (3-12) – What the heck just happened? Oakland wasn't supposed to beat the Buffalo Bills, even if this was a home game. The Bills were in line to make the post-season for the first time since 1999, ending the longest playoff drought in the NFL, but that'll have to wait until next year now. The Bills were eliminated in a stunning loss with a playoff berth at stake. Just goes to show that life on the road is no easy task.
The Raiders finish up the season at Denver, which will be an extremely difficult game to win, what with the Broncos also jockeying for position to get a first round bye. Oakland is projected to pick fifth in the draft, and the squad needs help pretty much everywhere. Expect the Raiders to buck the trend and draft somebody totally off the grid. Anything could help at this point.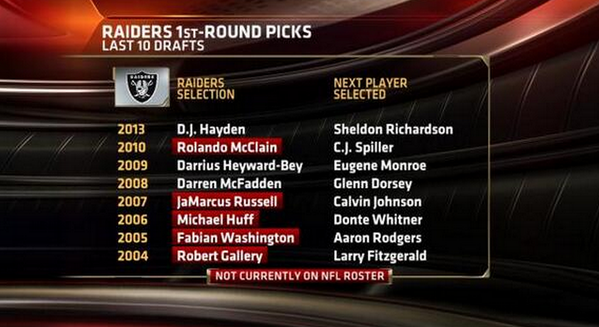 4. Washington Redskins (4-11) – 'Way to knock off a hated rival from the post-season! I'm sure Philly Phanatics -- yes, that's baseball, but still -- were cocky and overconfident all week heading into FedEx Field to take on the hapless Redskins. For the record, we can refer to them as that name now that the FCC has made its ruling.
What's even more confusing about the Redskins' season is they finally get RB Alfred Morris going and they give two rushing TD's to Fullback Darrell Young. 'Way to keep your star RB happy, dudes. RGIII played marginally well, which gives fans and coaches even less clarity than they previously had.
The off-season is going to be very intriguing in the nation's capital, as the Redskins wish list may include a QB, a head coach, new uniforms, and a new mascot. Does Santa have room in his sleigh for all these frivolities when what he clearly needs is a 50-caliber machine gun mounted on the back?
5. New York Jets (3-12) – Congratulations, dudes, on hanging close with the New England Patriots and testing them more than they wanted or expected. You even held Tom Brady under 200 yards passing for the first time in forever. The Patriots still secured the No 1 overall seed and home field advantage throughout the playoffs, and the road to Super Bowl XLIX will travel through Foxboro.
As for the Jets, well, they let Geno Smith throw the ball 27 times, and yet they're third in the league in rushing yards. What happened to playing to your strengths? Especially since the Patriots are so good against the pass. It's going to be a tumultuous off-season for the Jets; they could be asking Santa for a new QB, head coach, and GM, too. It would be extremely useful if they could locate all three of them before next Christmas.
As for their draft position, expect the fans to show up in droves and voice their displeasure with whomever's name is read. It beats celebrating Christmas in Hollis.
Amidst all the sludge, we did witness some awesome football drama, culminating with a Cincinnati Bengals victory on Monday Night Football setting up an epic winner-take-all showdown with the Steelers this Sunday.
If you were busy wrapping presents or running to your gate to catch a connecting flight to your Aunt Judy's house, perhaps you didn't catch this massive brawl between the Rams and Giants.
NHL players everywhere are laughing. Not with them. At them.
If you're Tom Brady, you were definitely too busy with Mrs Brady, since she made it known to the world what she wanted for Christmas. Mariah Carey is suing for copyright infringement first thing Monday morning.
Enjoy Week 17, and if your fantasy team has already been eliminated like mine, there's a whole slate of bowl games to keep your football fetish going, because nothing screams high-caliber football like the Bitcoin St Petersburg Bowl, which is basically a home game for Central Florida. When do these kids have time to go to class?