Beckham's Incredible TD Grab Is the Giants' Only Highlight
Published on 23-Nov-2014 by Alan Adamsson
Shades of Lester Hayes!
Hardcore NFL historians will remember him from the Oakland Raiders' glory days.
And his Stickum.
That's what hands players used back in the day before gloves became standard issue to get a better grip on the ball. The advanced technology is a main contributor to the rise in one-handed catches on the gridiron these days.
How much effect a glove had on Odell Beckham Jr's grip in this catch is up for debate: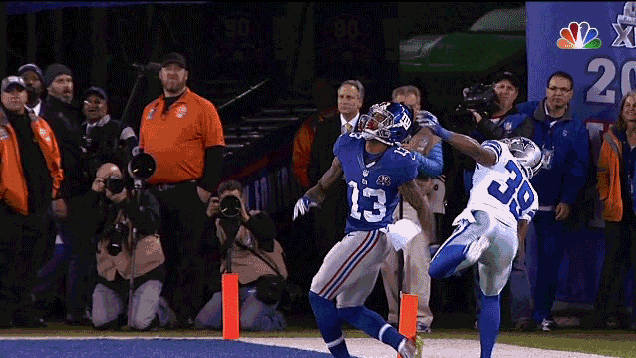 Within minutes, social media had justifiably anointed it as a mega-viral sensation.
This is what happens when tech meets talent.
Lester Hayes was a lockdown cornerback before that term was invented. He and Mark Haynes carried on the legacy of Kent McCloughan and Willie Brown, who virtually created the bump-and-run. The technique was so effective that the NFL created the illegal chuck rule to limit it.
Not to be out-legacied, Hayes' trademark became that of being a total-body adhesive sorta dude. If a pass came anywhere near any part of his person, he had enough Stickum applied to make him a walking spider web. And where'd he get the idea? From another legendary Raider, Hall of Fame receiver Fred Biletnikoff, whose proficiency was profound enough to be the namesake for one of college football's stable of post-season awards.
In the glove era, Beckham's catch goes to the top of the list, one he's been on since his days at LSU.
And since he's been with the G-men, Beckham's practice makes even more perfect:
There are baseball players who might want to borrow his gloves.
And incidentally, the Giants lost to Dallas, 31-28. G-men losses are commonplace, too. Just not as memorable.