2015 NFL Snark Rankings: Week 1
Published on 20-Sep-2015 by bpfiester
The NFL preseason has mercifully come to an end, and now the games are for real.
A rather fitting description of what fans think of pre-season NFL games:
Something that seems to be of great importance or a big deal that is perhaps unnecessary.
"We wanted to throw you a birthday party!"
"Well, it wasn't worth all this hullabaloo!"
Week 1 was marred by injuries to Dez Bryant, TY Hilton, and Terrell Suggs, but the games still went off without a hitch.
The way some of them ended, let's just say they were still heated topics late into Tuesday.
Eli Manning got skewered in the local New York tabloids for telling RB Rashad Jennings not to score on two consecutive plays so as to not allow the Cowboys too much time to score. That's what happens when you play not to lose instead of trying to actually score TD's and win games.
To absolutely no one's surprise, none of the Snark teams won games during Week 1, which is precisely why you're reading about them in this column. It's been too long, fans. You won't hear about Deflategate, Spygate, Bountygate, or any other off-field issues -- -gate or otherwise -- that beleaguered us all for the past six months.
You'll just get no nonsense, unique, sports analysis about terrible football teams. Normally, we charge for this type of hard-hitting journalism.
1. Oakland Raiders (0-1)
Another season in the East Bay actually brought a glimmer of hope to the silver-painted faces after a decade-plus of losing and futility.
Losing at home, 33-13, to the Bungles -- it was actually 33-0 at one point -- has wiped away that optimism like one of those fanatics removing their war paint after another harrowing defeat.
QB Derek Carr was knocked out of the game early and will miss a week or two with a boo-boo on his thumb. I'm pretty sure that 's the official injury report. Two late garbage-time TDs made this look a lot closer than it truly was; the Raiders didn't even reach Bengals territory until the second half.
The Ravens come to town in Week 2. Good luck and enjoy the highlights; they're mostly of Andy Dalton TD passes.
2. Cleveland Browns (0-1)
Well, that wasn't quite the start they were looking for after boasting a revamped defense.
Cleveland allowed the lowly Jets to score 30 points. Even Johnny Football got in on the action, subbing for an injured Josh McCown in the first quarter. That was fast. Head coach Mike Pettine surely didn't plan on bringing Manziel into the first quarter of the first game. Nothing's gone as planned in Cleveland. That's assuming there is a plan.
If we were to pick out theme songs for every team after Week 1, Sad But True by Metallica would be appropriate for this squad.
Oh, who are we kidding? They'll catch the Bengals napping later on in the year.
3. Tampa Bay Buccaneers (0-1)
Buyer's remorse must have set in during Coty Sensabaugh's 26 yard INT return for a TD on rookie QB Jameis Winston's first pass in the NFL.
Or was it nearly five minutes later, when opposing rookie QB Marcus Mariota, lit it up in the first half alone?
Is this another Manning-Leaf situation, except with the draft slots reversed? Will Jameis be wide-eyed when he runs out onto the field in New Orleans this Sunday?
Can you return a player? Ask for an exchange? Yeah, see what the Titans have to say about that. Pretty sure they got the right guy.
4. Jacksonville Jaguars (0-1)
Let's give the Jaguars credit; they didn't get annihilated by the Panthers. They haven't moved yet, either. We're looking for positive attributes, after all.
Speaking of positives, LB Paul Posluszny led the team with eight solo tackles and had a 19-yard INT return.
There, that's the best I could do. Jacksonville's D is supposed to be the strength of the team, and they did only allow the Panthers to score 20 points. Somehow.
Looking at the defensive statistics, Zane Beadles and Bryan Anger each are credited with a tackle. That's not good when a guard and your punter record tackles. This is the same punter, mind you, that Jacksonville drafted a few spots ahead of some Wisconsin QB named Russell Wilson. Wow, Danger-Russ really did slide in that 2012 draft.
Will Gus Bradley survive the season? Not at this rate.
5. Washington Redskins (0-1)
Only the RG3 saga kept the Vikings out of the Week 1 Snark Rankings. This team is the dictionary definition of a train wreck. It's clear Jay Gruden will either be the first head coach fired during the 2015 season or get named Coach of the Year for breaking even.
Guden just needs to not answer the phone on a Friday.
Question is, how much longer will RG3 be on the roster? They're down one star WR in DeSean Jackson already.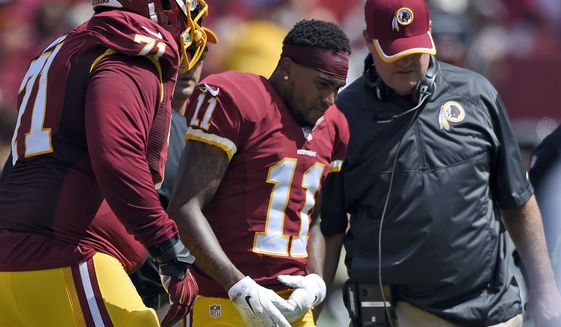 More attrition to come.