Who Has the Most Hated College Football Program?
Published on 8-Aug-2014 by Stacey Mickles
Reddit went all a-Twitter this week with a set of stats that quickly became a hot topic of channelled malice that could have approached Middle Eastern levels.
But these dudes aren't Nate Silver.
And they're definitely not Bill James, the godfather of modern-day stat-a-holics.
Here's a map of the USA's contiguous 48, compiled by Reddit, illustrating the most hated college football program in each state: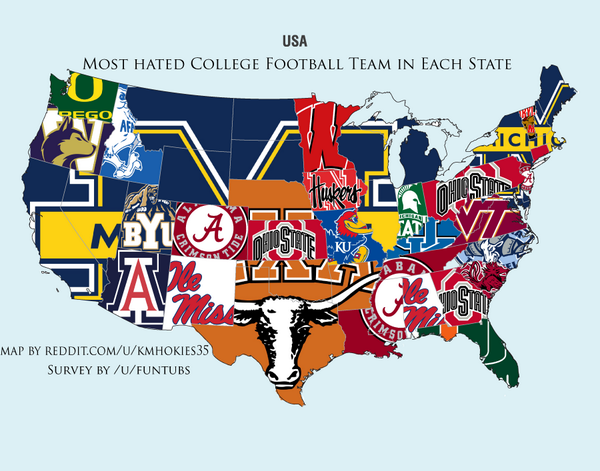 The surprise? Even with its diminished stature in recent seasons, the No 1 villain is the Maize & Blue. Not Darth Vader State, aka Alabama, although the Crimson Tide did crack the top four.
How does this happen?
Easy. The same way the '57 Reds got so many players on the All-Star team and third-world dictators get 99% of the vote. (We assume the other 1% gets shot.)
In this case, they got busy in the Great Lakes area, and we had a change in the leaderboard.
So, duly chastened, the one fan, one vote policy was invoked, and an allegedly more accurate version of pigskin hatred emerged:
Now let's look at the state-by-state -- and outliers -- ill will toward 18-to-22-year-olds playing for millionaire coaches supported by billionaire boosters. Here's your Big Four and who despises them the most:
Ohio State

(9)

Michigan

(8)

Texas

(7)

Alabama

(5)
Canada
Asia
Arkansas

Alabama

Connecticut
Illinois
Australia
Alaska
Europe
Indiana
Colorado
Louisiana
Michigan
Maine
Nebraska
New Jersey
New Hampshire
Maryland
New Mexico
Tennessee
New York
Massachusetts
Oklahoma
Pennsylvania
Nevada

Texas

South America
Ohio
Wisconsin
This -- aided by a bottle of akvavit -- makes more sense.
Of course all of Asia would hate Michigan. Toyota, Nissan, Kia, Subaru, and all that.
When more fans attend Columbus Crew matches than Buckeye games, maybe South America will come around.
Maine and Massachusetts are college hockey hotbeds, so they'd hate Michigan on general principles.
Arkansas, Colorado, and Nebraska all changed conferences because they got sick of Texas throwing its weight around.
Alaska must hate Alabama because, up there, the only real bears are polar and Kodiak.
And New Jersey? Maybe Jimmy Hoffa was a secret Tide supporter.
Amazingly, not one state weighed in against Nôtre Dame. Maybe there is something to the new pope's sky-high popularity.
Still, seriously, on Knute Rockne, All-American and Rudy alone, wouldn't any fan gag?
And don't get me started on Manti Teo.
But at the same time, it shows how far the Irish have fallen that no one hates them that much any more.
I guess those who made it on the list should be flattered. It means their program must be pretty damn good pretty damn often to make entire sections of the country hate them, because they wish the program they follow was equally as good.
So, cheers for the jeers!